While we're writing this blog for family, friends, and former colleagues, some people are bound to pass along the URL to others. If you're curious about who we are and why we're traveling around the world for a year, read on. We'll try to keep the site fresh and interesting to just about anyone, but you can't keep all the people happy all the time. If we start complaining monotonously about crappy coffee in Malawi, just fire off a comment to bring us back to reality (something like, "Hey, west coast elitist liberal morons, stop sipping your stupid latte and pay attention to what's really important in the world." Except more nicely, if possible).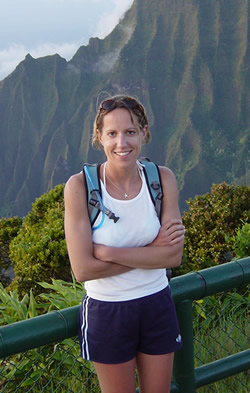 Robin: A proud native of Oakland, California, I feel most myself when wearing running clothes and a baseball cap. My passions include books, writing, and language; my career (thus far) has been in law. If you ask me to dog-sit, I will almost certainly say yes, and I never got over my little-girl obsession with horses. I'm restless, quiet, sympathetic, curious, and vegetarian. I love cooking (when I have time), and I really love eating. A good cupcake will make my day. And I've got a terrible case of wanderlust, which I hope never to cure.
Some of my favorite words of wisdom came from a high school teacher of mine: "Don't expect anything. Expect anything." I have often told myself that when embarking on something new, including in preparing for this trip. I don't know what the next several months will bring, but I hope that — as with all travel — this journey will be inspirational, educational, and always interesting. Above all, I am excited to share this adventure with Pierre, my favorite travel companion and partner in life.
"I travel not to go anywhere, but to go. I travel for travel's sake. The great affair is to move." (Robert Louis Stevenson)
"Don't tell me how educated you are, tell me how much you traveled." (Mohammed)
"You won't be around forever girl, you've gotta grab life with both hands." (Snow Patrol)
Pierre: I'm a perpetual outsider, the kid that kinda looks like everyone else but doesn't really fit in, the skinny kid with the weird accent, born to French parents but raised in a French-Canadian industrial textile town 45 minutes from Montreal. The liberal Canadian kid in a conservative upstate New York engineering college. The East Coast guy who plays ice hockey in Los Angeles, or street hockey in San Francisco. The dude with 3 passports and 3 citizenships, who works for little-known foreign software companies yet doesn't write any code, who voted for the first time 2 years ago, and who answers most personal questions with "um, that depends."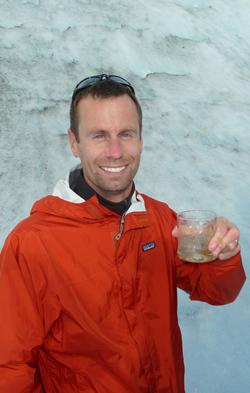 Being an outsider has, strangely enough, made my travels quite enjoyable. While most people feel awkward in a foreign country, I am used to feeling awkward all the time, so traveling puts me on equal footing with other visitors. Heck, it almost gives me an advantage! When I was working I sought out the trips that others didn't want to take, and my employers sent me to Tokyo, São Paulo, Sydney, Stockholm, Paris, Munich, etc. I racked up hundreds of thousands of frequent flyer miles, and well over 1 million actual flight miles. I loved the discoveries and the different cultures that I experienced on those trips, but the solitude wasn't always pleasant.
With Robin I've taken much different trips, and experienced places and adventures that I'd never have chosen by myself. I'm looking forward to spending long periods of time in one country, learning about the people, the politics, and the way of life.
One of the most important reasons that I married Robin is that I knew we wouldn't lead boring lives, and this adventure is proof that she won't let me down! It was mostly her idea, and it's definitely a good one.
Off we go…
About the name of the blog: So what's up with "Traveling Bones"? A bit of a play on words, we suppose, since we're both on the skinny side. It's also based on a song by Creedence Clearwater Revival (see the homepage), which is a great Bay Area band. Since that's where we live, we thought it made sense.
…
..